Real goodness

Real food

After all, your pet should be eating like one of the family too.

Personalised
to your dog
We'll create your dog's tailored menu designed to meet the needs of your pup down to a tee. You can then select up to two personalised recipes for each delivery, helping you invest in the health of your dog for a long, paw-some life!
Discover your dog's plan
Natural Health
just add water
Lovingly prepared in Yorkshire, we use ingredients you recognise with no hidden nasties, absolutely nothing weird or even slightly peculiar. We gently air dry our ingredients to remove the moisture while locking in the nutrients, so you can simply add water, stir and serve!
Dogs deserve better
Other pet foods can contain animal by-products including strange bits and pieces like horns, feet, feathers, heads of poultry and wool (gross!). Our dogs are part of our family, so why would we feed them something we wouldn't eat?!
Foods like kibble go through a harmful extrusion process too, which involves subjecting them to extreme heat and pressure, which kills vital nutrients, resulting in boring brown biscuits.
Meet Nelly & Polly
I rescued Nelly two years ago. She came to me with alopecia; she would itch so much that she had scabs and whiteheads covering her whole body.

I couldn't even stroke her, which was heart-breaking.

We switched from brown biscuits to Pure, and after just a week she completely stopped itching, and her skin cleared up. Thank you Pure for giving Nelly her life back.
Transparent from

Start to finish

We source the very best ingredients from the UK, France, Netherlands, Poland and Germany.
Guaranteed traceability
Only GMP-certified suppliers
Rigorous third-party testing
Air dried
To perfection
Gently air drying involves blowing warm air across our ingredients to remove the moisture content. Our meat, fruit and veg are slowly air dried at around 40-80°C, removing the risk of harmful pathogens (E. coli, salmonella, listeria, campylobacter) whilst retaining the goodness and nutrients of our fresh, human-quality ingredients.
Get started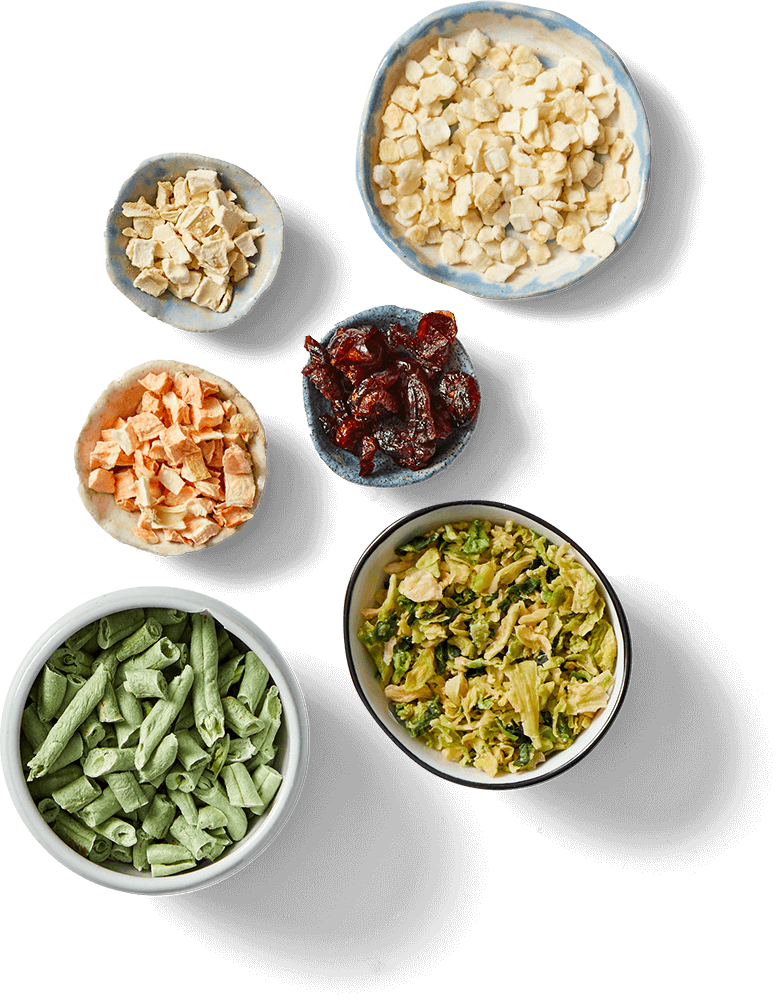 Personalise your
dog's food
Proactively invest in your pet's health with a nutritious, vet-approved dog food that's trusted by thousands. Discover your dog's recipe today.
Discover your dog's menu